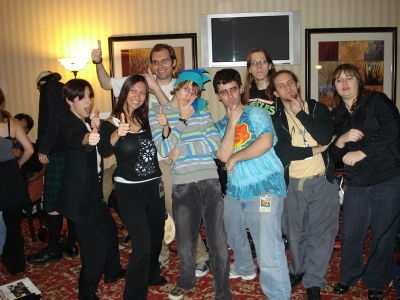 Youmacon is an anime convention held annually in Metro Detroit area during November. A rapidly growing convention compared to others in the Midwestern United States, who after their second year ranked 3rd largest in the Mid-West. Youmacon's inaugural year brought a variety of guests together from various facets of anime and Japanese culture inspired fandom. These guests included well known American voice actors in Japanese animation, American television and film actors (Power Rangers), professional and fan-based music performers, and comic artists and creators. From Wikipedia
The 2007 iteration of the show had Lemon Demon performing their furthest from home so far, and their first show out of the North-East. It marked the first performance of the song The Machine, and is also notable for being the first meeting of Neil with Aaron Ackerson, and Austin Wolfclaw outside of the internet.
In 2008, Neil was asked by Youmacon to record a cover of "This is Halloween" from "Nightmare Before Christmas" with new lyrics written by Tom Palazzolo, a staff member of the convention, called This is Youmacon.
Setlists
Edit
2007 Friday show
Edit
(On the Youmacon stage)
2007 Saturday show
Edit
(Collaborations with Aaron Ackerson and The Spoony Bards in the lobby) (note to self: last.fm short links for songs and artists would be nice! :D)
2008 Friday Night Concert
Edit
123456 Pokemon
I've Got Some Falling To Do
Amnesia Was Her Name
Being a Rockstar
Pumpkin Pie
Action Movie Hero Boy
The Ocean
Subtle Oddities
The Only House That's Not On Fire (Yet)
Ode to Crayola
The Machine
Marketland
Fine
Bill Watterson
The Ultimate Showdown of Ultimate Destiny
Illemonati attendees
Edit
Czar of Funktopia
Geozo
Efanis (Youmacon Staff)
Ad blocker interference detected!
Wikia is a free-to-use site that makes money from advertising. We have a modified experience for viewers using ad blockers

Wikia is not accessible if you've made further modifications. Remove the custom ad blocker rule(s) and the page will load as expected.