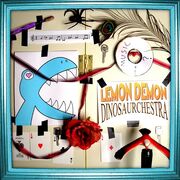 Originally written as a theme song for a cartoon by FilmCow.com, which was to be a pilot for an Adult Swim series and has not yet been made, this song appears as a bonus track on Dinosaurchestra.
Outer space is on my mind.
I would leave the Earth behind
To see the other galaxies,
To float to any world I please,
To know the secret, escape the curse,
To be one with the universe,
And…

Rocket ships! (Rocket ships!)
Astronauts! (Astronauts!)
Aliens! (Aliens!)
Laser beam blaster shots!

Planets exploding
And spaceships exploding.
Voluptuous alien vixens exploding.

And life would be fantastic in the place
That we call outer space!

Ad blocker interference detected!
Wikia is a free-to-use site that makes money from advertising. We have a modified experience for viewers using ad blockers

Wikia is not accessible if you've made further modifications. Remove the custom ad blocker rule(s) and the page will load as expected.