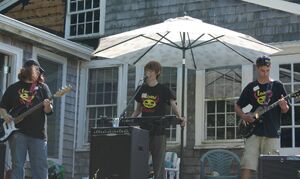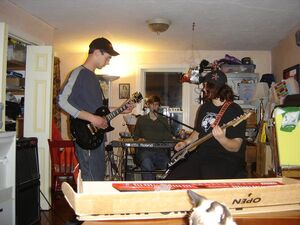 In live performances, Lemon Demon currently consists of Neil Cicierega on vocals and keyboard, Alora Lanzillotta on bass guitar, Neil's brother-in-law Chooch (the titular Charles of Charles & Leah Forever) on guitar, Greg Lanzillotta on drums, and sometimes Dave Kitsberg on guitar. Drums were originally prerecorded tracks played by Professor iPod before the band obtained a human drummer, Tony Wry. In November 2008, Tony moved to Detroit, temporarily leaving Lemon Demon without a drummer.
Lemon Demon's live performances have mostly been at open mics and have also included a performance at Neil's sister's wedding and performances on Neil's sporadic internet radio show, Hooray Radio. The trio version of Lemon Demon made their live debut at Awesomefest 2006 (see below).
Some songs, like Elvis Porn and Charles and Leah Forever, were available as live recordings long before studio versions were produced.
Repertoire
Edit
These are the songs that Lemon Demon is known to have played live at some point:
Originals
Edit
Theme Songs
Edit
Live dates and setlists
Edit
2006-07-30: Lemonic Demonade 2006, Kingston, MA
Edit
This list is probably in order, but is incomplete.
2007-04-21: Imagination Summit, Westport, CT
Edit
2007-07-29: Lemonic Demonade 2007, Kingston, MA
Edit
2007-09-21: Imagination Summit 2, Kingston, MA
Edit
Friday show on the Youmacon stage:
Saturday show in the lobby; collaborations with Aaron Ackerson and The Spoony Bards:
2008-04-18: Knights of Columbus, Kingston, MA
Edit
The full setlist and order are currently unknown but these songs are known to have been played:
2008-08-03: Lemonic Demonade 2008, Kingston, MA
Edit
Ad blocker interference detected!
Wikia is a free-to-use site that makes money from advertising. We have a modified experience for viewers using ad blockers

Wikia is not accessible if you've made further modifications. Remove the custom ad blocker rule(s) and the page will load as expected.