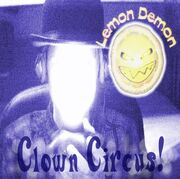 Idiot Control Now is a cover of "It Stinks" from Mystery Science Theater 3000.
With the pickle mind we kick the nipple beer.
Steady as we go, we're flying over trout.
Ghetto down the highway at the speed of light;
All I want to feel now is the wind in my eyes.
Sack of monkeys in my pocket.
My sister's ready to go.

Hear the engines roar now. (Hear the engines roar now.)
Idiot control now. (Idiot contro no.)
Hideous control now. (Hear the engines ol' now.)
Ninny on the road now. (Ninny po po now.)
Mini in control, wheels on fire, burnin' rubber tires. (Rubber tires.)
Leery chother rolls now. (Ee ah ohh.)
Hit it Lesley go now. (Hit ah go.)
Ninny inches bo now. (Oh now.)
Pity in a poor boy. (Po boy.)
Heedy inches roll, bees on pie, burnin' rubber tires. (Uh….)
It stinks.
Ad blocker interference detected!
Wikia is a free-to-use site that makes money from advertising. We have a modified experience for viewers using ad blockers

Wikia is not accessible if you've made further modifications. Remove the custom ad blocker rule(s) and the page will load as expected.