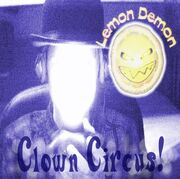 Well, I thought I'd write a little song,
so I wrote a little song.
Then I tried to write some lyrics,
But I didn't last too long.
So I figured, why not sing about me
Trying to write a song and stuff.
And I decided to keep on singing
'til I had had enough, but then I realized…

This song needs a hook.
An ironic little,
Self-refrential,
Catchy freakin' hook.
So I made the chorus
All about how
This song needs a hook.
An ironic little,
Self-refrential hook.
And a guitar solo.
[bad guitar solo]
Whoops, hang on, I have to tune this… okay. [Tunes guitar]
[awesome MIDI guitar solo]
Ugh, stop that. All right, uh…
Oh, I know, let's do the, um, the bridge. Bri— yeah, bridge. Okay?
Okay? Anyone? Hello?
Fine.
(music starts)
Oh.

Baby, tell me why,
Why do they call it a bridge anyhow?
You cannot walk on it,
It doesn't have a guard rail,
It doesn't even hold many cows.

This song is sort of caving in on itself,
And so it's going to end right now.
Right now.

AHHHHHHHHHHHHHHHHHHHHHHHH… jinx!
This song is one of the few that inform the listener that Lemon Demon is a one-man band. This can be heard when nobody answers Neil's suggestion to do the bridge.
Ad blocker interference detected!
Wikia is a free-to-use site that makes money from advertising. We have a modified experience for viewers using ad blockers

Wikia is not accessible if you've made further modifications. Remove the custom ad blocker rule(s) and the page will load as expected.