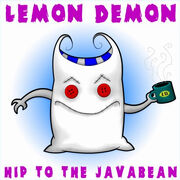 Hip to the Javabean is Lemon Demon's third album, and the first not to be released on MP3.com. It is also the only Lemon Demon album with a ReadMe file. Lemon Demon's first two albums, out of print by the time of Javabean's release, are included as MP3s on the data track. Emmy Cicierega drew the cover art.
Track Listing
Edit
Bonus Tracks
Edit
Also Contains
Edit
Ad blocker interference detected!
Wikia is a free-to-use site that makes money from advertising. We have a modified experience for viewers using ad blockers

Wikia is not accessible if you've made further modifications. Remove the custom ad blocker rule(s) and the page will load as expected.