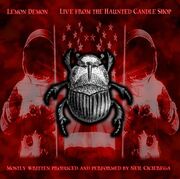 My very existence makes you chew up pencils.
My very existence makes you cringe.
One would think that after so much hurt and pain,
An ordinary human would unhinge.
.detnaw ton ma I nehw wonk I, efil ruoy yojne, nuf evah, eybdooG
And you've got so much on your plate right now
And I'm just breathing down your neck
All I can offer are these parting words
Fly straight or drop the oar and wreck.
The ending was sampled and played backwards in the ending of Mold En Mono.
Ad blocker interference detected!
Wikia is a free-to-use site that makes money from advertising. We have a modified experience for viewers using ad blockers

Wikia is not accessible if you've made further modifications. Remove the custom ad blocker rule(s) and the page will load as expected.