This article is about the website known as EvilTrailMix. For information concerning the song, go to Evil Trail Mix.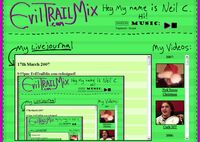 EvilTrailMix has been Neil Cicierega's website for a few years now. It used to host the Lemon Demon website, as well as most of Neil's other projects, such as Animutation and Potter Puppet Pals, but all of the aforementioned have since gotten their own separate websites.
Although the majority of downloadable songs by Neil are hosted on the Lemon Demon website or Ordo Illemonatorum, songs are still occasionally hosted on EvilTrailMix.
On the 18th of March 2007, EvilTrailMix got a complete redesign that enabled it to stream Neil's music (as Lemon Demon and Deporitaz) and just generally be more visually pleasing. As well, the site is now kept much more up-to-date, with things such as short film thumbnails and a link to Neil's LiveJournal.
Trivia
External links
Ad blocker interference detected!
Wikia is a free-to-use site that makes money from advertising. We have a modified experience for viewers using ad blockers

Wikia is not accessible if you've made further modifications. Remove the custom ad blocker rule(s) and the page will load as expected.