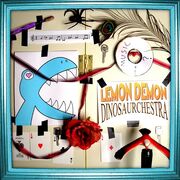 Dinosaurchestra Part One is the first of the three-part song series on the album of the same name.
Dinosaurchestra Part Two | Dinosaurchestra Part Three
Travel back in time with me.
Two hundred million B.C..

What's your name and what do you play?

My name is Neil and I don't play anything.

What fun should we have today?

Shook my Magic Eight Ball and it said,

Let's rock out in a Dinosaurchestra.
Let's all shout in a Dinosaurchestra.
Let's have fun in a Dinosaurchestra.
Let's eat children in a Dinosaurchestra.

Ad blocker interference detected!
Wikia is a free-to-use site that makes money from advertising. We have a modified experience for viewers using ad blockers

Wikia is not accessible if you've made further modifications. Remove the custom ad blocker rule(s) and the page will load as expected.